DO-IT Scholar Profile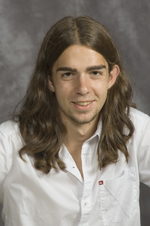 DO-IT Scholar Cory
Hi. My name is Cory. I live in Poulsbo, WA. I was born in Providence, Rhode Island, and, because my dad is in the Navy, I have lived many different places, including Hawaii; San Diego; Rota, Spain; and La Maddalena, Italy.
It was in Spain that my Asperger syndrome began to make its greatest impact on my life. In San Diego, I had made friends and had been popular among other students up until third grade when I moved to Spain, where I was bullied and teased because the other students could see that I was different. This made my years of school in Spain and Italy very difficult and lonely.
Apart from my social life, my years in Europe were the best of my life, because of the places I got to go and the cultures in which I lived. To this day I still consider myself a European.
By the time I came to Poulsbo, I had retracted into a "shell" to protect myself; but in my junior year I made two friends who helped me open up. They welcomed me into their group, and I was able to learn the social skills I needed to function in society. I came out of my cocoon.
I am now respected and admired by many of my classmates. I enjoy listening to metal music and long distance running. I plan to study political science and work in politics.