DO-IT Staff Profile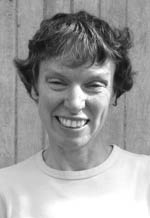 DO-IT Staff member Beth
Hi, I'm Beth Hammermeister. I started working as a receptionist for Computing & Communications (C&C) in the Academic Computer Center in November 2006. DO-IT is a collaboration of C&C, the College of Engineering, and the College of Education at the University of Washington. Part of my role is to provide behind-the-scenes administrative support for DO-IT. My interest in DO-IT comes from personal experience. My father became a person with disabilities at a time when resources were more limited than they are today.
While I am a long-time U.W. employee, I am new to the UW campus and the world of disability studies. I spent most of my twenty-plus years at the UW in an unrelated field: I was the household manager for the UW President's Residence.
I am a lifelong learner. Some of my current interests are dancing, gardening, hiking, cross-country skiing, yoga, travel, and cooking for my family and friends.