DO-IT Scholar Profile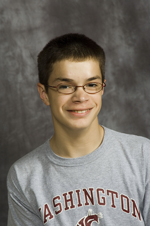 2007 DO-IT Scholar, Blake
Hello. I'm Blake and am a senior at River Ridge High School. I have a sister who will be a junior at Washington State University this fall and a dog named Krystal. My disability is cerebral palsy.
I'm a percussionist in my school's band. I mostly play bass drum, but I have played other instruments such as the gong, triangle, and the cymbals. Every year in September, the band takes a trip to Leavenworth, WA to march in the Autumn Leaf Festival Parade. I hold the school banner, since I cannot play and drive my electric wheelchair at the same time. Last school year, the band also took a trip to San Francisco. We had clinics at two universities, where we learned how to improve our music and conduct a band. We also played outside of Monterrey's city hall, and inside Oregon State's capitol building.
I enjoy going to Starbucks and getting a Mocha Frappuccino, camping, and using a computer. My plans after high school are to go to either Saint Martin's University, South Puget Sound Community College, or Seattle Pacific University to study computer science.