DO-IT Scholars at the Youth Leadership Forum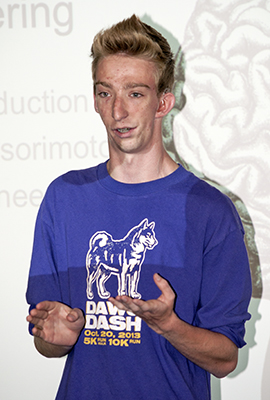 DO-IT and YLF both teach leadership skills by giving students opportunities to practice presenting and leading.
The Youth Leadership Forum (YLF) is a unique career leadership training program for high school juniors and seniors. By serving as delegates from their communities, students can cultivate leadership skills. This year, the 14th annual YLF took place at Western Washington University (WWU) from July 26–31. DO-IT Ambassadors and staff contribute in many ways to the planning and execution of YLF. Ambassadors applied the skills they gained as DO-IT Summer Study Interns, college students and professionals to contribute to the future success of YLF participants.
Brandon Muller, '01 Scholar, reconnected with the Governor's Committee for Disability Issues and Employment after receiving his master of education in counseling and was recently appointed to this committee after volunteering the past two summers as a member of the YLF planning committee as well as a counselor. This year, he served as the co-vice chair of the YLF sub-committee.
Melissa Niklason, '07 Scholar, has been a delegate, peer counselor, and co-counselor in past years. This year, she returned as a lead counselor as she completes her last year of college at Central Washington University. Her biggest contribution has been to share her experiences with other people with disabilities. "There are a lot of people with disabilities who might not want to do certain things because they might be hard for them. I like to think that I am able to make them believe, 'If she could succeed in doing this, so can I.'" Her favorite moments are "seeing students who, before coming to YLF, were uncomfortable with their disability, become comfortable in their own skin. I see a light bulb going off in their head and a weight being lifted from their shoulders. They realize that there are others in a similar situation, and they can relate."
Alex Quarrell and Allison Sullivan, '12 Scholars, were co-counselors. Alex says he learned a lot himself during the program. "One thing that stood out is how to be an effective counselor/mentor even if it's just being there to talk to when someone needs it so that everyone feels included. I learned the need to be flexible in any situation that might arise." Allison shared her college experiences, both positive and negative, with the group.
Daman Wandke, '05 Scholar, has been involved with YLF in the past and returned this year as a speaker and mentor. He presented "My Leadership Journey: From Local to National Advocacy," where he discussed how he became a disability advocate at the national level. His favorite moment was when he convinced a shy student to join in at the dance. "The student was sitting quietly by himself and after lots of encouragement, I was able to convince him to dance."
Noah Seidel, '05 Scholar, and Tami Tidwell, DO-IT program coordinator, organized a panel of mentors and self-advocates to share their experiences with post-secondary education and transition services for high school students. The panelists' education ranged from transition students to graduate degree recipients. The participants discussed how they decided what they wanted to study, life after high school, and how they were able to request and use accommodations.