Supporting Phase I and II during DO-IT Summer Study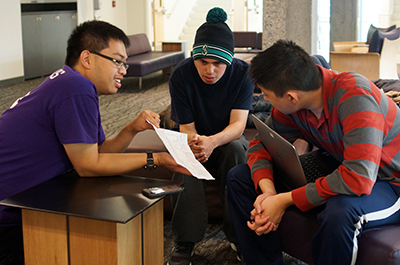 DO-IT Interns Dustine and Antonio help Phase II Scholar Alex with a project.
For most of the Interns, the job of looking after the Phase I and Phase II Scholars seemed like a lot of responsibility. We quickly learned that teamwork would help get all tasks done much more efficiently. While it was overwhelming at first, it became easier as days went by. Interns had a lot of fun getting to know Scholars while also learning how to be professional and communicate well with Scholars and staff about needs. The Interns served as mentors for the Phase II Scholars.
Phase I of Summer Study allows new Scholars to meet each other and engage in a variety of interesting activities. However, living on campus for 10 days can feel a bit overwhelming. To ensure that everyone had a good time, the 13 Summer Study Interns helped make students feel comfortable and included. The Interns answered questions about college life and checked in with Scholars to see if they were okay or needed something.
Meanwhile, Phase II Scholars were given the opportunity to become more independent. These Scholars worked in small groups to create a robot, film a video, and conduct experiments that focused on mice, brains, and bugs. Interns were available to support and assist when requested. Phase II Scholars also took part in sessions related to college success; how to interview for a job; how to ask for accommodations in college; and how to write a successful elevator pitch. The Interns encouraged Phase II Scholars to interact with the Phase I Scholars by asking them to share their experiences.
The sense of inclusion is crucial to ensuring a friendly atmosphere to grow during DO‑IT Summer Study. To help create this atmosphere, the Interns encouraged Scholars to participate in leisure activities with each other, such as table tennis or board games in the dorm, bowling in the HUB during game night, or to try something new like riding accessible bikes provided by Outdoors for All. While living in the dorm throughout Summer Study, the Interns helped ensure that the dorm felt a bit more like home.
After DO-IT Summer Study, Scholars, staff, and the DO-IT community engage in a discussion list related to disability. All Scholars and Ambassadors are encouraged to participate in DO-IT discussion lists.