DO-IT Staff Profile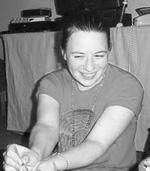 DO-IT Staff member Charity
My name is Charity Ranger and I am a recent graduate of the UW. While a student i worked part-time in the DO-IT office. Prior to coming to the University of Washington, I rarely left my hometown community of West Seattle. As far back as kindergarten I was described by a teacher as "a free spirit" when, during a kindergarten concert, I decided that rather than sing, it would be more fun to play on the banister and refused to join my classmates in singing a merry song.
As a student at the UW, I enjoyed going to classes and getting involved in activism. I have a double major in communication and diversity & disability studies, a major that I designed myself, a fact that I am FAR too proud of. I also started the University of Washington's disability student group called Disability Advocacy Student Alliance (DASA).
At DO-IT, I stuffed envelopes, mailed out DO-IT information, answered the main phone line, and helped out with program activities. I am absolutely ecstatic about working with the wonderful people at DO-IT!