DO-IT Staff Profile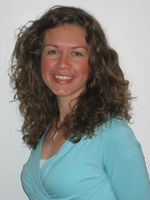 DO-IT Staff member Rebekah
Hi. I'm Rebekah and I am the publications coordinator at DO-IT. I work on the team that creates publications, like DO-IT News and Snapshots. I am in my second year at DO-IT and enjoy using my degree in English writing to create publications that share useful information to people all over the world. I am also a student in the University of Washington's Master of Communication in digital media program. Through my current graduate work, I hope to expand my ability to contribute to the field of disability studies and communications.
Several people in my family have disabilities—both visible and invisible—and shared knowledge, from organizations like DO-IT, is helping them be successful in their endeavors. Knowing how information and resources empower people is very motivating to me in my work at DO-IT.
When I am not thinking about grammar, punctuation, and page layouts, I like to go on long bike rides, plant flowers in my garden, go ballroom dancing, and take my labradoodle Afton to the dog park, so he can go swimming and chase tennis balls.