Engineering Discovery Days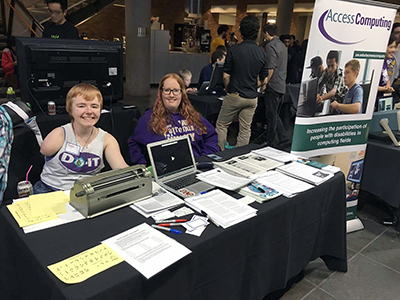 DO-IT's AccessSTEM and AccessComputing projects participated again this year at Engineering Discovery Days, where students and faculty from all UW engineering departments share their work with students, teachers, families and the public. We drew quite a crowd each day with a display of accessible science equipment, examples of alternate keyboards and mice, as well as our most popular feature, the name tag brailing station. Students lined up to braille their names.
Students were also fascinated by the science equipment on display. The talking tape measure, talking scale, and color teller were popular items for the students to play with. They also were intrigued by the magnetic stirring equipment, which they turned up to the fastest speed. There was lots of excitement around the accessibility of the equipment and the idea that this equipment allows more students to participate.
Engineering Discovery Days is always fun and gives DO-IT an opportunity to increase awareness about accessibility to a younger crowd.