ERC-INCLUDES Capacity Building Institute: Creating a Culture of Inclusion in NSF-funded Projects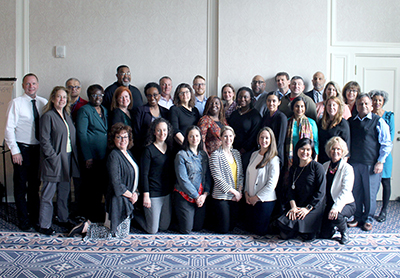 On April 3 – 5, DO-IT and the University of Washington Center for Neurotechnology (CNT) hosted the ERC-INCLUDES capacity building institute (CBI) in Seattle, WA. The goal of the project is for two major National Science Foundation (NSF) programs to share best practices for including underrepresented and underserved groups in science, technology, engineering, and mathematics (STEM).
Participants were from one of two large NSF programs, Engineering Research Centers (ERCs) or Inclusion across the Nation of Communities of Learners of Underrepresented Discoverers in Engineering and Science (INCLUDES), an initiative designed to "enhance US leadership in STEM discoveries and innovations by focusing on broadening participation in these fields."
Thirty-five participants from all over the US shared best practices for broadening participation though presentations, small group discussions, and brainstorming sessions that addressed a range of topics that include the following:
Expanding Diversity through the Creation of Learning Opportunities for Minority Students
An Integrated Approach to Retain Underrepresented Minority Students in STEM Disciplines
Interdisciplinary Research between Social Science and Engineering
Applying Systems Thinking to Broadening Participation
Letting Students Lead the Way to Inclusive Excellence
Early STEM Engagement for Minority Males
In addition to presentations about engaging women, racial and ethnic minorities, first generation college students, and families with low income, the CBI discussed disability as an important part of diversity. Disability-related presentations by DO-IT staff included Promoting Universal Design to Create a Culture of Inclusion (Sheryl Burgstahler), Why Accessible Information Technology is Critical for an Inclusive Project (Gaby de Jongh), and Engaging Individuals with Disabilities at an Engineering Research Center (Scott Bellman).
In addition to the CBI, the ERC-INCLUDES project will create an online community of practice for stakeholders, a website with conference proceedings and resources, and other products. The ultimate goal is for project participants to create new collaborations and learn from one another as they pursue the ultimate goal of diversity in STEM education and careers. Consult our website for details.