DO-IT Women Win UW Award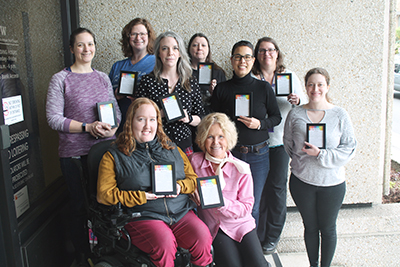 In February, the University of Washington celebrated all women on campus by hosting a UW Women's Award, inviting staff, faculty, and students to identify women across campus who have inspired hard work, strength, and persistence. All women who were nominated were honored at the event, receiving framed prints of their award. I, as well as DO-IT's Anna Marie, Brianna, Elizabeth, Gaby, Kayla, Laura, Lyla, Susie, and Tami, were all nominated.
The event featured snacks, socializing, and a raffle, as well as a presentation by Dr. Sarah Myhre, a climate and ocean scientist with extensive experience in advocacy and community organizing experience. Her speech featured women's contributions, both at the UW and worldwide, and discussed the support women give each other to create a more inclusive, supportive world. After her speech, a few nomination letters were read out loud as examples of the abundance of great female leaders in our community.
Congratulations to all the fantastic women who work at DO-IT and help to make our programs and operations run smoothly!