Meet the 2019 Scholars!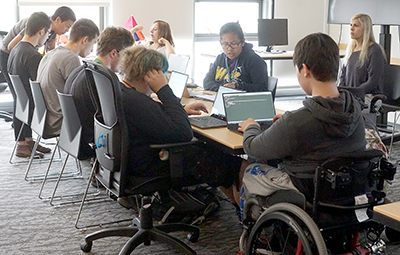 This summer DO-IT will host its twenty-seventh-annual Summer Study program for DO-IT Scholars, providing participants the opportunity to experience life on a college campus and explore challenging academic and career fields such as those in science, engineering, and computing. Primary funding for the Scholars program is provided by Washington State. For more information, visit our website.
I am pleased to introduce to you the 2019 Scholars:
Alexis enjoys her classes in math and art at Mossyrock High School. She would like to attend Digipen to pursue a bachelor's degree in digital art and animation. She also hopes to have her own cartoon series on the internet. She participates in pep band and Knowledge Bowl. She also enjoys video games, Dr. Who, and anime. Alexis has autism.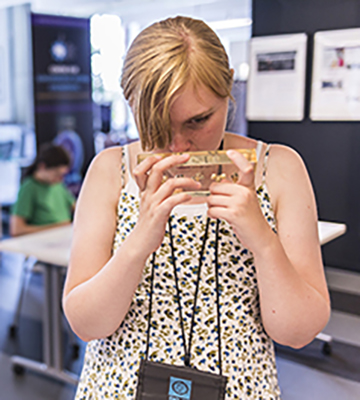 Alison attends Tahoma High school where she especially enjoys her classes in English and history. She is considering a career as a librarian because she enjoys reading, helping others, and doing research; or as an elementary school teacher because she loves watching young minds grow and helping students learn. Alison has a learning disability.
David enjoys science and history. He attends West Valley High School in Spokane. He has Attention-Deficit/Hyperactivity Disorder (ADHD) and autism. David volunteers at his local pet shelter to help animals in need. He is interested in the environment and everything else on our planet.
Ellie enjoys studying math, biology, and medicine at Skyline High School and Bellevue College. Her other interests include fiber and needle work (knitting and spinning), hedgehogs, service dogs, entrepreneurship, web design, cooking, and many fandoms. Ellie's goal is to possibly earn a Ph.D. in genetic medical research or medical product design. Her passion is to make the world easier to navigate. She has Ehlers Danlos Syndrome and comorbidities (EDS & CO), Postural Orthostatic Tachycardia Syndrome (POTS), and a sleep disorder.
Grant has autism and uses augmentative and alternative communication (AAC) to communicate. He enjoys being part of a large community at Bellevue High School, but he feels most at home working alongside other disability advocates, academics, and scientists to help others in the autism community. He is particularly interested in neurology and psychology, as well as meaningful discussions on any topic. At this point, Grant plans to pursue a liberal arts degree with a scientific focus.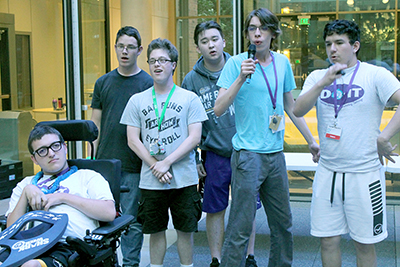 Jacob's career goal is to focus his engineering and design passions on improving the design of transit systems and adaptive products. He attends Cleveland STEM High School in Seattle. Jacob has Duchenne muscular dystrophy and Asperger's syndrome. He has served as the Muscular Dystrophy Association's local Goodwill Ambassador, making public appearances, raising funds, and giving media interviews.
Kayla is most interested in English and the life sciences (such as biology, earth and space science, anatomy and physiology), and neuroscience. She has a variety of potential career interests from neuroscience to real estate to education. She has low vision and oculocutaneous albinism. Kayla attends Issaquah High School and has completed for-credit classes at Bellevue College, University of Washington, and Eastern Washington University.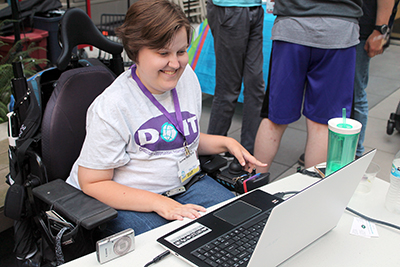 Kelvin attends Cascade High School in Leavenworth where he enjoys studying science and digital art. His goal is to study sports management to become a soccer coach. He has Duchenne muscular dystrophy. He is a huge World Cup fan and has helped as an honorary assistant coach for the soccer team for two years. Kevin has a degenerative physical disability that impacts his muscle tone.
Merritt loves music and plays both the piano and alto saxophone. He has autism. He hopes to pursue a degree in the natural sciences to educate people about flora, fauna, animals, and history in a National Park setting. Merritt uses photographic and audio recordings to capture his interest in the natural world. His favorite academic areas at Friday Harbor High School are history and environmental sciences. Merritt is an avid reader.
Norma attends the Lummi Nation School in Bellingham. She has a learning disability. She hopes to begin Running Start next year and then pursue a career in the geosciences or biological sciences.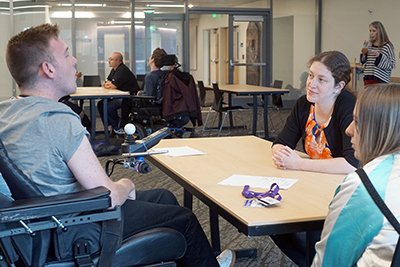 Paula attends the Lummi Nation School in Bellingham. She has a learning disability. She hopes to begin Running Start next year and then pursue a career in science or history.
Risa attends The Community School in Spokane. She enjoys arts like sewing, mixed media, sculpting, and digital art/animation, as well as sciences such as biology, chemistry, physics, and engineering. She has autism and narcolepsy.
Rohan attends Tesla STEM High School in Redmond where his two favorite subjects are science and mathematics. He hopes to start his career in the biomedical sciences, as well as having experience in computer science.
Sam enjoys his classes in the history of the Pacific Northwest and math. He participates in wheelchair basketball.