Launch of DO-IT's Redesigned Website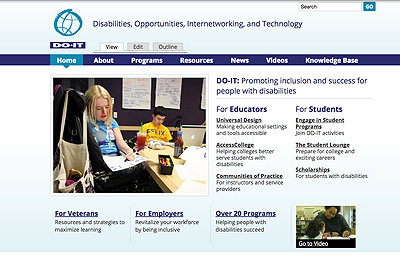 DO-IT launched our redesigned website in January, with a new look, easier navigation, and a mobile-friendly, accessible design. Our new site is very user friendly, showcasing over twenty years of disability-focused work and resources. The site is a great example of how accessible design can still be modern and approachable.
DO-IT's website features all of our participant programs; a wealth of information on universal design; a searchable knowledge base with over 700 Q&As, case studies, and promising practices; over 50 videos with searchable captions and transcripts; and hundreds of freely accessible publications and resources.
The new site took over a year of work and countless hours from a core team. Our website is always a work in progress, with continual edits and updates being made on a daily basis. Feedback is always welcome and appreciated. Contact doit@uw.edu with any comments or visit www.uw.edu/doit/about/about-site to learn more about the accessibility of the site.