DO-IT Hosts Accessible IT CBI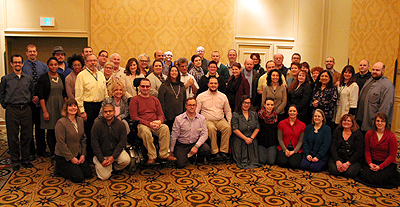 By Brianna Blaser, DO-IT Staff
DO-IT hosted an accessible IT capacity building institution (CBI) on February 4 – 6, 2015 in Seattle, WA. Over 50 participants attended, including disability service professionals, individuals with disabilities, and IT professionals from across Washington State.
The CBI provided a forum for sharing interventions and strategies that promote accessibility of IT in colleges and universities. A highlight of the CBI were the two panels on Thursday. The first panel featured IT professionals discussing video accessibility; the second panel featured students with disabilities discussing what types of technology they use. Both panels gave perspective on what steps we should be taking towards reaching accessible technology.
Staff for Accessible Technology Services, which includes the Access Technology and DO-IT Centers, presented on topics related to web accessibility, accessible documents, and working with vendors. Other topics discussed were the accessibility of websites, accessible online learning courses, universal design, and a variety of other issues.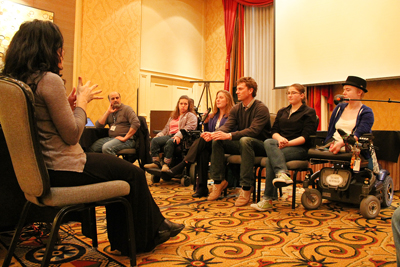 Professionals and students from colleges across Washington State worked in groups throughout the event to answer questions such as "What barriers do you face on your campus relaated to IT accessibility?" and "What strategies can you implement on your campus to encourage accessibility of webpages and media?" Their answers to these questions and more will be published in the proceedings of the event later this month.
Overall, the CBI was a great opportunity to bring together people and create and share ideas on accessible IT in postsecondary education. Individuals who attended left with concrete plans for ways to affect change related to IT accessibility on their own campuses. By hosting this CBI and others similar to it, DO-IT hopes to continue the trend of bringing people together to discuss important disablity-related issues and create change among schools and our community.