Staying Connected Fridays at the Burke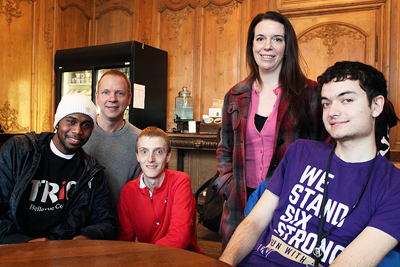 By Tina Tran, DO-IT Staff
On a Friday every month, AccessSTEM hosts Staying Connected Fridays at the Burke Museum and other locations on campus. Participants come together to catch up over free coffee and food. Here, we spend our time connecting with other students, listening to each others' success stories, and provide a space for mentorship and support. Each meeting covers a range of topics from social justice, health and well-being, or accommodations in school.
On February 20th, students and graduates came together to discuss their various fields of study and their future plans. One of the students discussed their interests in physical therapy programs, and another student shared their story on being accepted into a Ph.D. physical therapy program. Another student shared their achievements in receiving a regional scholarship award, while providing guidance for other students applying for scholarships. Students often find this event a fun, engaging way to connect with their peers.
Staying Connected Fridays works to bring the AccessSTEM community together in an open environment to connect and support. For more information on upcoming Staying Connected Friday dates, email Scott Bellman at swb3@uw.edu for details and to RSVP.