Lights, Camera, Action!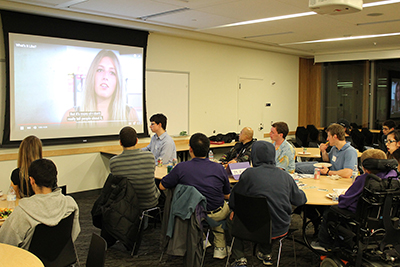 DO-IT has a long history of producing videos that promote the full inclusion of individuals with disabilities of all aspects of society—especially education and employment. We've come a long way on this journey. In our early days, we would hand out VHS tapes to educators, employers, and policymakers. We enjoyed the switch to producing our own videos on DVDs, which are much lighter, have better quality, and are easier to replicate. Around that same time, we began hosting videos online as our primary platform for dissemination. Today, DO‑IT videos play in a custom accessible media player with audio description and transcripts provided. They can also be downloaded, viewed on DO-IT's YouTube channel, or ordered on DVD.
DO-IT currently has over 20 new videos in production! Our camera crew is busy at conferences, on college campuses, out in the community, and at our annual Summer Study program. New titles include the following:
Technology Advancements and Disability Identity
Leading the Way: Computing Students and Professionals with Disabilities
Accessibility in Computing Courses
Disability Disclosure in the Workplace
DO-IT Scholars Discuss the Importance of College
Quality Instruction Includes All Students
DO-IT welcomes strategies for new videos, especially those that provide practical information to broad audiences and those that suggest solutions to access barriers. Video ideas can be sent to doit@uw.edu. In the meantime, get out the popcorn! DO-IT's full video library can be accessed here.