My DO-IT Internship Experience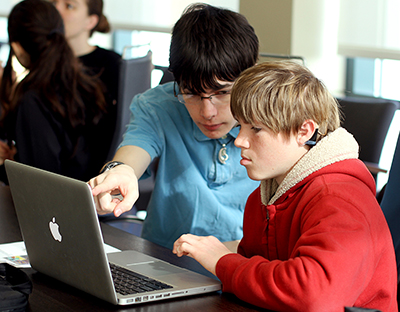 A colleague of mine reached out to me after I told her my red thread for my master's program: students of color living with disabilities. She mentioned DO-IT and how they have supportive staff and that they are doing meaningful work. Shortly after I reached out to DO-IT, I was given the opportunity to intern at the office. I came into DO-IT with an open mind and an eagerness to bring my perspective to the office. I was fortunate to be able to plan my internship with my supervisor based on my interests and passions. I got to know the staff and was able to learn about their work and find ways to incorporate my interests into current projects.
My main focus for my first project was Native student representation. I was able to use my experience as a Native woman with a disability to find ways to reach out to students with similar demographics in high school. I recruited by reaching out to a family friend of mine who works in Native education. After our collaboration, I successfully recruited a couple Native applicants for DO-IT Scholars. I was absolutely elated when I heard the news. Even though it was a small feat it still made a difference. I will cherish this opportunity and memory after my time at DO-IT.
Another project I was able to work on was recruiting schools with majority students of color into the AccessComputing program. I was able to send recruitment emails to over 200 schools. The first step in getting the word out was a catalyst for future partnerships. I was also able to go to many events and serve on a handful of panels. My voice was valued, and I felt like an integral part of DO-IT. With this experience, I know I have the power to share my voice in other programs and institutions I work with in the future.
After working on these major projects, staying involved with events, and working on other smaller projects, I'm leaving DO-IT with many new skills and experiences. I have built important relationships with DO-IT staff and will continue to collaborate with the office. I also found my voice in a more concrete way while working here. I realize I have so much to offer for future program outreach and research. This internship was an incredible experience, and I will always keep the time I spent at DO-IT with me wherever I go.
Thank you DO-IT for this amazing opportunity. I'm sad to leave but I know I will always stay in touch.