New Grant on K-12 Computing Education for Students with Disabilities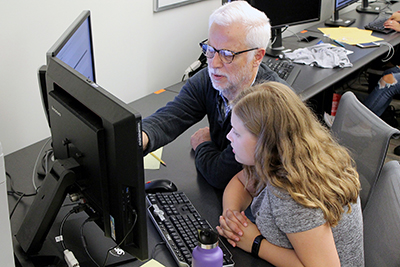 K-12 students with disabilities in computing courses may encounter tools and curricula that are inaccessible to screen readers used by students who are blind or have reading-related disabilities such as dyslexia. Content embedded in images without text-based alternatives accessible by screen readers also creates barriers. Students who are deaf require captions or transcriptions of audio content and students with disabilities can benefit from curricular features that facilitate access to them.
We have received a new National Science Foundation grant, AccessCSforAll (#CNS-1738252 and #CNS-1738259),which will create a research practitioner partnership with schools that serve students who are deaf, blind, or have learning disabilities as well as mainstream schools to test the effectiveness of an accessible version of Advanced Placement Computer Science Principles. Richard Ladner from the UW and Andreas Stefik from the University of Nevada Las Vegas are PIs. Sheryl Burgstahler from UW is a co-PI. The project will also develop resources for computer science teachers to help them include students with disabilities in their courses and partner with the College Board to ensure that they are ready to properly evaluate students with disabilities. We also plan to continue to provide individualized support for teachers working with students with disabilities.
As part of the CSforAll Summit, held on October 17 in St Louis, MO, AccessCSforAll committed to create and test a fully accessible AP Computer Science Principles course to ensure that students with disabilities of all kinds have the opportunity to learn basic computer science by December 2018.
Interested in learning more about computing education for K-12 students? Check out our video Quorum: An Accessible Programming Language in the 2017 STEM for All Video Showcase, which won a Facilitators' Choice Award. 
Read more about the work we've done so far in "AccessCSforAll: Making Computer Science Accessible to K-12 Students in the United States" in the June 2017 SIGACCESS Newsletter.