Our Trip to Microsoft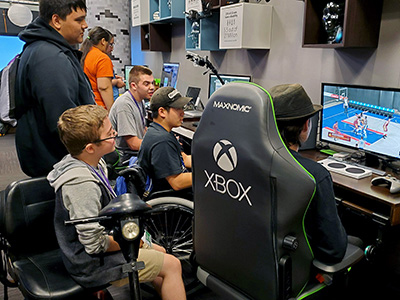 On the first Friday of the DO-IT Scholars Summer Study, we took a trip to the Microsoft campus and participated in some engaging activities. First, DO-IT Scholars split into small groups to design a robotic dog that could aid people with disabilities. One common idea was that the dog could detect objects and sounds nearby and notify its owner in various ways. This activity simulated how an innovative company like Microsoft creates and designs new products.
After that, we had a presentation about Microsoft and how its products have accessibility tools to help people with disabilities. Next, we listened and asked questions to a panel with Microsoft employees who have a disability. A few of them have been a part of the DO-IT program. They discussed what designers, engineers, and program managers do as a team and explained their journeys and struggles and how Microsoft has helped them continue their work.
For lunch, Microsoft provided us with a taco bar, which was really nice. We were treated like employees for the day and had many drink options available. It is definitely a great perk of working at Microsoft.
After lunch, our group headed across campus to the Xbox Inclusive Tech Lab. The goal of the lab is to make sure everyone can play games. We learned and talked about the Xbox Adaptive Controller, which is for people who have difficulty playing with a normal controller. Bryce, who works at the lab, showed us some videos of people using the Xbox Adaptive Controller to show how it can help someone with a disability that makes it hard to hold a regular game controller. A regular Xbox controller can pair up with one of the adaptive controllers to work as one whole controller. The adaptive controller also can connect to many different customizable switches. We listened to a 3D surround sound system, which helps people who are deaf or hard of hearing. It brings a whole new level to movies, TV, and music. After the presentation, everyone was allowed to play video games on Xbox consoles and PCs using many types of controllers. We chose to play Minecraft on the PC, which was fun. Other Scholars chose to play different games, such as soccer and other sports. We had a great experience at Microsoft.