Professional Development for Teachers of Deaf and Hard of Hearing Students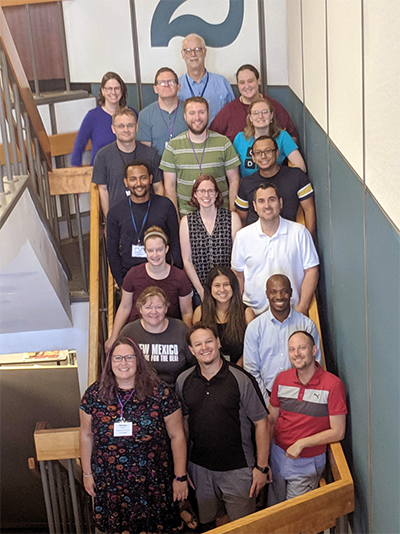 In summer 2019, our companion project AccessCSforAll held a professional development workshop for high school teachers of deaf and hard of hearing students at the Model Secondary School for the Deaf (MSSD) in Washington, D.C. The focus of the workshop was on helping the teachers incorporate computer science, and in particular, the AP Computer Science Principles (CSP) course, into their schools' curriculum.  The workshop was led by me and Andreas Stefik with assistance from Jill Naumann, who had been teaching AP CSP for several years at MSSD, and Erin Peach, who is a developer at Code.org.  
Fourteen teachers participated in the workshop from 11 different states.  The workshop was given in American Sign Language (ASL) with the help of two ASL interpreters because one staff and eight participants were themselves deaf.  A major part of the workshop was devoted to the participant pairs preparing and presenting AP CSP lessons with the other participants acting as students. All the lessons were given in ASL stressing the bilingual approach to education practiced by all the participants in their schools. In this way the participants learned from each other effective teaching pedagogy suitable for their deaf and hard of hearing students, in addition to learning computer science content. 
A paper about the workshop will be presented at the RESPECT (Research in Equity and Sustained Participation in Engineering, Computing, and Technology) Conference in Portland, OR in March.