Scholar Profile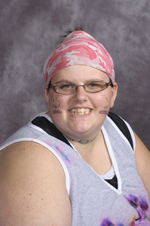 2008 DO-IT Scholar, Shelby
Hi! My name is Shelby, and I'm currently a senior at Eisenhower High School. After I graduate from high school I plan to attend Whatcom Community College and study American Sign Language (ASL). After I graduate, I plan to work at Children's Hospital in Seattle as an ASL teacher and interpreter.
When I was born I had a brain tumor, and the doctors said I had four years to live. Instead of giving up on life, I continued to live to the fullest and push through anything that got in my way. Now I'm seventeen, and have been tumor-free for nine years! I am actively involved in many clubs in school, such as debate. In debate, I went to state competition in my first season, received a letter, and was one spot short of breaking finals in student congress. Another club I'm involved in is Happy Hands, an ASL club. Just this year, I was accepted into one of the most brilliant and outstanding programs around: the DO-IT Scholars program. DO-IT has helped me learn a number of things, including how to write cover letters, thank you letters, and resumes. It has also taught me about how to deal with college, college life, getting scholarships, and how to talk to my teachers about the types of accommodations I will need because of my disability.
In my spare time I have many hobbies. I love to ride motorcycles, play paintball, and volunteer at Children's Village. Through the organization, I (along with other high schoolers and adults) visit elementary and middle schools to explain to children through puppets that even though a kid has a disability it doesn't mean that the person is broken or bad; they are just different. I also volunteer for a program called Epic selling raffle tickets to people at the Yakima Fair. The tickets are for playhouses built by high schools in the Yakima area.