Ambassador Profile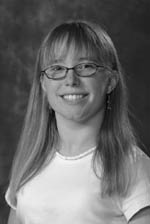 DO-IT Ambassador, Annemarie
Recently I attended the first dorm wing meeting of the school year at the University of Portland (UP). As we went around the room introducing ourselves and what we did over the summer, I couldn't help but note that not only was I excited to be a senior, but I had the coolest summer job of any of the other resident assistants. Over the summer of 2007, DO-IT set up an internship for me with the Northwest Fisheries Science Center, a line office of the National Oceanic and Atmospheric Administration (NOAA). After a great experience in 2007, I was thrilled to be invited back this summer by Julie Peddy, an administrator at the center and a DO-IT Trailblazer Award recipient.
I worked with the administrative staff, the educational outreach program, and the web content design team. In the smorgasbord of my duties, I improved my skills in Excel, learned the basics of editing professional documents, and honed my business writing and communication skills. Furthermore, I learned to analyze websites for the ease with which a user can find essential content. In 2007, I was given the opportunity to represent the center in Washington, DC. Between job shadowing other Department of Commerce employees, attending a job fair, and exploring the city, I decided that DC is definitely a part of the country I will consider when choosing a graduate school.
The most engaging and rewarding aspect of my job was planning and leading a NOAA Phase II workshop during DO-IT Summer Study 2007 and 2008. In addition to introducing DO-IT Scholars to the field of science and policy creation, I was honored to be given the chance to share some of my experiences setting up accommodations at college and work.
I can't stress enough the importance of taking responsibility for your accommodations and strengthening your self-advocacy skills. In my sophomore year of college, I ran into a medical obstacle (brain surgery), which necessitated a change to my accommodation plan. Because I had already established a strong relationship with the Office for Students with Disabilities and had no qualms about going to my professors to discuss how things had changed, the process of adjusting my accommodation plan was completely painless. I urge all college students with disabilities to develop these relationships. You never know when an unforeseen change will arise, and even if there aren't major problems to deal with, it is best to have these people in your corner.
With my ever-fluid accommodation plan safely in the hands of all my professors, I entered my last year at UP. My schedule includes reading; tutoring; attending plays, basketball games, and midnight barbecues; sometimes avoiding studying by preparing for the LSAT; and looking into financing law school in DC!