Staff Profile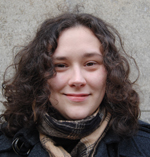 DO-IT Staff member Ashley
Hi! My name is Ashley and I am a program assistant at DO-IT. I do a variety of tasks around the office but my concentration is with the AccessCollege project. I have worked at DO-IT for three years, beginning as a student assistant.
I recently graduated from the UW with a BA in women studies. While I was a student, I became heavily involved with LGBT (lesbian, gay, bisexual, transgender) and disability activism. I helped found the annual Transgender Awareness Week and have worked on a campaign for gender-neutral, accessible bathroom options on campus. My undergraduate thesis, about the intersections between transgender identity and disability identity, was recently published in the Disability Studies Quarterly. I was a member of Disability Advocacy Student Alliance (DASA) and the student advisory board for the Office of Minority Affairs and Diversity (OMA&D). Quite a busy schedule, but that's why there are so many acronyms in my life!
In my free time I love to go to concerts and plays. I also enjoy traveling. I recently spent my winter vacation visiting Spain, Ireland, England, and Scotland. I studied abroad in Guadalajara for three months as an undergraduate and visited England for the second time this fall.