Tech Tips: Troubleshooting Windows with Linux Live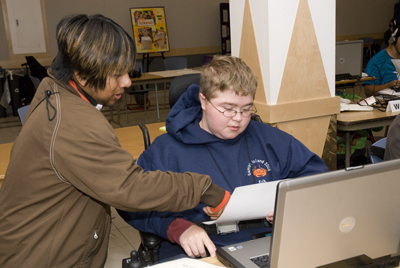 Phase I Scholar Erik and Intern Oscar work together to solve a problem during the computer lab at Summer Study.
When your Windows machine starts acting erratically and you need to rescue that important file or hop online to check email, there is a useful stopgap measure available. Using what is called a Live CD, you can boot up and run the Linux operating system from the CD and the computer's memory, bypassing the hard drive altogether. This example will use Knoppix.
You'll download an image file with an .iso extension. Using CD/DVD burning software that usually comes with a computer, double-click on the .iso file and it will make a CD or DVD based on the image file. (This is different from just copying files onto a disk, in that it makes the CD or DVD bootable.)
With the Knoppix Live Linux CD or DVD in hand, make sure your computer is setup to boot from the CD/DVD drive. When the computer first powers up, you'll usually see a text message on the screen that states, "F2 to enter setup." (This statement varies by manufacturer and internal components.) Once you have entered the setup program, navigate through the menu choices until you find Boot Order. Follow the directions in that setup program to move the boot order so that the computer first tries to boot from the CD/DVD drive and then other components like the floppy or hard drive. Save this new setting and exit according to the setup program's instructions.
With the Knoppix Live Linux CD or DVD installed in the drive bay, restart the computer. At some point you'll see the Knoppix text on the screen and a command prompt awaiting your input. Press Enter to load the Knoppix Linux operating system. Once it examines all of your unique hardware you'll see a graphic desktop environment similar to that of Windows or Apple machines with a task bar on the bottom of the screen and icons for hard drives with names like hda1, hda2.
One of these drives is your CD/DVD drive; another is the one (or more) of the hard drives installed in your corrupt Windows machine. Clicking on a drive icon will bring up a window showing the contents of the drive.
To rescue needed data, you can insert a USB memory stick in an available USB port, and drag files from the hard drive to the memory stick. You may need to right-mouse click on the USB drive desktop icon and choose Properties to give write permission on the drive if it is in read-only mode.
Once you've recovered all of your important data files, you can then reinstall Windows on the machine.
In addition to giving access to your otherwise inaccessible files, the Knoppix Live Linux CD/DVD gives you a couple of web browsers that can be used to surf the Internet and check your email. This can be handy when you need online access and don't have the time or resources to fix your machine.
It would be wise to make one of these disks before disaster strikes and take the CD/DVD along with you if you are traveling with a laptop.