Scholars Conduct Usability/Accessibility Tests with Support from Microsoft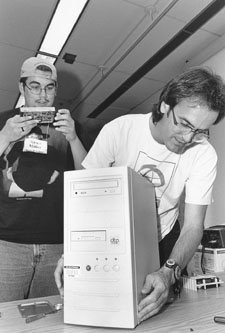 This summer, Phase II Scholars advanced access to computers for individuals with disabilities by conducting software usability tests. Thanks to a gift from Microsoft and collaborations with UW Technical Communications and Computer Science departments, DO-IT offered a new Phase II workshop: XP Operating Usability Testing. Students tested the new operating system and measured results in the UW's LUTE (Laboratory for Usability and Testing Evaluation). They paid particular attention to the accessibility of the product by accessing XP with a variety of adaptive technologies. Test results will be considered in the development of future versions of XP and other software.
Thanks to Microsoft for helping students with disabilities gain "real-world" work experience and working to make their products universally accessible.