Staff Profile: Jodi McKeeman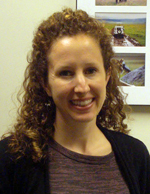 DO-IT Staff Member Jodi
Hi, my name is Jodi. I started working at DO-IT in February 2011 as manager of program operations. I help to ensure all of the day-to-day operations of the office run smoothly.
I was born and raised in Seattle…Ballard High grad here! I completed my undergraduate program at the University of California Berkeley and a few years later earned my master's degree in tourism administration from George Washington University in Washington D.C. I spent the following five years working in international development in project and program operations management. I spent four of those years living in Cape Town and travelling throughout Africa and one year in Miami. My husband and I then decided to cut down on our international travel and moved back to the Pacific Northwest last year, when we had our daughter, to be closer to her grandparents. These days, when I'm not at work, I'm spending my time awestruck, witnessing and enabling an infant-going-on-toddler to learn about the world around her.
I'm very happy to be with DO-IT. I'm still learning but I already know that I truly admire all the great work that is done here, and I'm thrilled to contribute my operations management skills to help build better programs for students.