DO-IT Ambassador Profile: Blake Geyen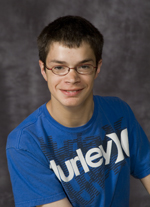 DO-IT Ambassador Blake
Hello. My name is Blake. I began as a DO-IT Scholar in 2007 and became a DO-IT Ambassador after I transitioned to college. Currently, I am a third year business major at Saint Martin's University. I am considering a concentration in business management and economics. After graduating, I am interested in working in the public transportation field. Public transportation has helped me become very independent, and I would like to help others become independent as well.
When I was born, I was asphyxiated at birth for nine minutes, which caused me to have cerebral palsy. I can walk with a walker for short distances, but I primarily use an electric wheelchair. In the first grade, I told my mom I wanted to join boy scouts. She thought it was all knot tying and hiking—something that I could not do. However, I joined, and it has been the greatest thing I have ever been involved in. I went camping, learned valuable skills, had a chance to experience the outdoors, and even broke off the back wheels of my electric wheelchair playing tug of war at summer camp. My participation taught others that anyone can be in scouting, even people with disabilities. As a scout, I was just "one of the guys." On March 17, 2009, eleven years after I joined the scouting program, I became an Eagle Scout.
In my spare time, I enjoy getting a mocha frappuccino from Starbucks, going for walks in my wheelchair on trails, hanging out with my family, and walking my dog Krystal.
The DO-IT Scholars program has been very helpful as I transitioned from high school to college. One important lesson I have learned through DO-IT is to advocate for myself. Before DO-IT, I would let other people make decisions for me. Through DO-IT, I learned to play a more active role in decisions that affect me. This is extremely important as I plan to live on my own.