Students Attend Tapia and Grace Hopper Conferences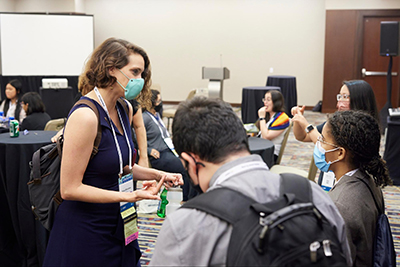 AccessComputing Co-PI Stacy Branham talking to participants at Tapia. Photo courtesy of Tapia.
Twenty-three AccessComputing team members kicked off the start of this academic year in true celebratory fashion; they received full or partial funding to attend one of two annual fall conferences celebrating diversity in computing. Early in September, 13 AccessComputing Team Members traveled to Washington DC to participate in the Richard Tapia Celebration of Diversity in Computing Conference and then in mid-September, another 10 Team Members received support for virtual registrations to participate in the Grace Hopper Celebration of Women in Computing, held in Orlando.
AccessComputing was well represented at the Tapia Celebration in particular, as several principal investigators (PIs) joined students at the event. Among these PIs was Dr. Stacey Branham, faculty member at the University of California, Irvine (UCI). Dr. Branham was featured as plenary speaker and gave a powerful talk, sharing her story as a woman with a disability and her path to becoming a professor of informatics at UCI. Several AccessComputing team members commented on the power and impact of Dr. Branham's speech and identified it as one of the high points of the conference. You can watch Dr. Branham's speech on the Tapia Facebook Page.
Avi Knotts, an undergrad from Temple University, wished there had been more Black people in attendance and that more of the speakers were people of color; however, she felt that the "Black Women's Voices, Leadership and Vision for K16 Computer Science Education" panel discussion was a highlight for her:
"That discussion brought me to tears because everything that was said was so true and really hit home. It was great to hear that the experiences I've faced are universal and that a solution needs to be found. It was also very nice to see that people who did not share those similar experiences were enlightened and very intrigued by the stories of the panelists."
Naba Rizvi, a grad student from University of California, San Diego noted that she really enjoyed the various disability-related sessions, and particularly the Birds of a Feather conversations, which allowed her to meet with others who share her passion for disability inclusion. Naba also thought there was room for additional participation by speakers, attendees, and other individuals who experience psychosis:
"I wasn't able to find any talks or resources on [psychosis], which is sad because they're an underserved, underrepresented, misunderstood, and widely stigmatized community. However, I understand the underrepresentation of stigmatized mental illnesses may just be a reflection of our society/industry as a whole and not necessarily exclusive to Tapia."
Team Members also shared some perspectives on Grace Hopper (GHC) as well. Zhuomin Li, a grad student at Washington University in St. Louis attended Tapia and GHC, even working a booth for Washington University at the latter. Zhuomin commented that GHC is larger than Tapia, and at GHC he had a chance to talk to a lot of women about grad school. Other GHC attendees commented on how empowering it was to be in a space filled with women in computing. One attendee noted that she's experienced challenges with the interviewing process and really valued a session from a corporate interviewer, with tips on how to approach interviewing and discussion on accommodations for the interview process.
Conference attendance can be an invaluable experience for AccessComputing Team Members. Dr. Raja Kushalnagar, AccessComputing PI from Gallaudet University, noted that one of his undergraduate students considered her experience at Tapia to be a real eye-opener when it came to graduate school admissions expectations, something she may not have realized if she'd not attended. Dr. Elaine Short, AccessComputing PI from Tufts University, was delighted at the opportunity to connect with students from other campuses and even had one Boston-area student she'd met in DC visit her on the Tufts campus a couple weeks after the conference.
While both Tapia and GHC are celebrations of diversity in computing, they're also important opportunities for AccessComputing Team Members to network, learn, and explore their career and graduate school options.