Teaching Accessibility Initiative (AccessComputing News - January 2016)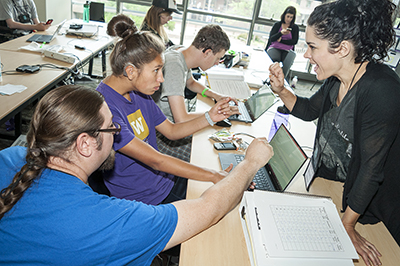 An instructor works with a student while an interpreter helps translate.
The Teaching Accessibility Initiative was created in 2015 to address the needs of the computing industry for developers, testers, program managers more familiar with accessibility. Their statement of principles and objectives includes the following. 
"We believe that technology is integral to our culture, our society and our workplace and should be usable by everyone, regardless of their abilities or disabilities. While there has been progress in a variety of applications, standards and regulations, accessibility is still not systemic in the development of new and emerging technologies. 
Today, knowledge of accessible development is limited to a handful of domain experts. To reach the goal of making technology accessible to everyone, we must broaden expertise across industry. Accessibility must become mainstream."
One of the first actions by the Initiative was to encourage industry to include knowledge of accessibility as part of job descriptions. To this end Adobe, Facebook, Google, LinkedIn, Twitter, Yahoo!, and several other companies have added language about knowledge of accessibility to their job descriptions. This pressure from industry will help influence computing departments to include accessibility in their courses.
AccessComputing is an active participant in the Initiative along with 27 other companies, organizations, and institutions. The goals of the Initiative coincide with our objective to increase the teaching of accessibility and universal design in computing courses. Visit the website to learn more.