Two New Books Published (AccessComputing News - January 2016)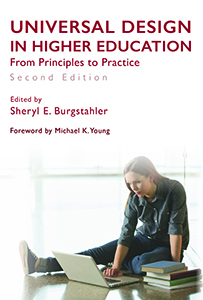 ​AccessComputing is excited to announce the publication of Universal Design in Higher Education: From Principles to Practice, edited by AccessComputing co-PI Sheryl Burgstahler. After thorough revision and the addition of new articles, this second edition addresses recent changes in law, technology, university policy, and practices, making it a comprehensive guide for creating inclusive college and university programs. It showcases practices for creating a campus environment that is welcoming, accessible, and usable. As more students with disabilities attend postsecondary educational institutions, universal design becomes a practical approach for educators to fully include these students.
As Stephan Smith, executive director of the Association on Higher Education And Disability, said: "Fresh, comprehensive, and engaging, Universal Design in Higher Education is expertly written, thoughtfully crafted, and a 'must-add' to your resource collection." To learn more about the book or order it online, visit the Harvard Publishing website.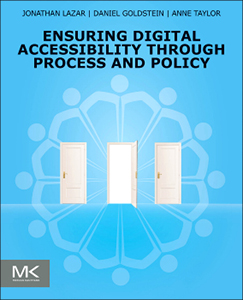 AccessComputing partner Professor Jonathan Lazar from Towson University also has a new book. Ensuring Digital Accessibility Through Process and Policy was published in July 2015. It looks at why digital accessibility is an important issue and offers best practices for implementing accessibility in a variety of settings including universities, companies, and government.
Richard Ladner, AccessComputing PI has said, "Ensuring Digital Accessibility is a wonderful explanation of why accessibility to all kinds of technology including computers, smartphones, e-books, and web sites, is so beneficial to society. Certainly the recipients of access benefit, but so do the providers of the information by reaching a wider and more diverse audience.  Providing access to users with disabilities is not only the right thing to do, it is the smart thing to do."