Universal Access: Electronic Resources in Libraries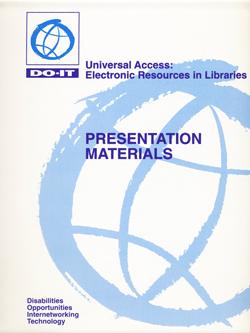 Editors: Sheryl Burgstahler, Beth Fraser, Dan Comden
DO-IT (Disabilities, Opportunities, Internetworking, and Technology) serves to increase the successful participation of individuals with disabilities in challenging academic programs such as those in science, engineering, mathematics, and technology. Primary funding for DO-IT is provided by the National Science Foundation, the State of Washington, and the U.S. Department of Education. DO-IT is a collaboration of UW Information Technology and the Colleges of Engineering and Education at the University of Washington.
Grants and gifts fund DO-IT publications, videos, and programs to support the academic and career success of people with disabilities. Contribute today by sending a check to DO-IT, Box 354842, University of Washington, Seattle, WA 98195-4842.

Your gift is tax deductible as specified in IRS regulations. Pursuant to RCW 19.09, the University of Washington is registered as a charitable organization with the Secretary of State, state of Washington. For more information call the Office of the Secretary of State, 1-800-322-4483.
To order free publications or newsletters use the DO-IT Publications Order Form; to order videos and training materials use the Videos, Books and Comprehensive Training Materials Order Form.
For further information, to be placed on the DO-IT mailing list, request materials in an alternate format, or to make comments or suggestions about DO-IT publications or web pages contact:
DO-IT
University of Washington
Box 354842
Seattle, WA 98195-4842
doit@uw.edu
https://www.washington.edu/doit/
206-685-DOIT (3648) (voice/TTY)
888-972-DOIT (3648) (voice/TTY)
206-221-4171 (fax)
509-328-9331 (voice/TTY) Spokane
Founder and Director: Sheryl Burgstahler, Ph.D.

DO-IT Funding and Partners