An Update on DO-IT Japan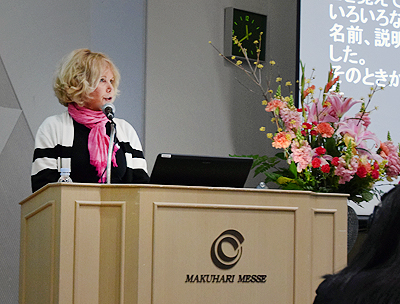 By Sheryl Burgstahler
Perhaps some of our readers do not know that there is a DO-IT Center in Japan at the University of Tokyo. Trust me, it is modeled after ours, though it may not be obvious from the website (doit-japan.org/doit/) unless you speak Japanese. The program began there in 2007 after Dr. Mamoru Iwabuchi engaged with the Seattle Center for one year as a visiting scholar. Two DO-IT Ambassadors helped the first DO-IT Summer Study in Tokyo. Dr. Takeo Kondo, also from the University of Tokyo, was a visiting scholar for a year with DO-IT in Seattle and is now the director of DO-IT Japan.
It is exciting to see our practices replicated and in some cases modified to make it relevant to the Japanese culture. I travel to Japan often to engage with our colleagues there and share lessons learned in the US regarding the inclusion of people with disabilities in postsecondary education and careers. My last visit was in February as one of four invited speakers at the Open University of Japan's annual international symposium on matters relating to higher education. The theme this year was on supporting students with disabilities, particularly in online learning environments. My presentation was titled "Preparing for Accessible E-Learning." Dr. Robert Stodden from the University of Hawaii spoke on "Supporting Students with Disabilities in Higher Education in the USA: 30 Years of Advocacy;" Mr. Martyn from the Open University, UK, presented "Accessibility Requires an Institution Wide Response: Lessons from The Open University, UK;" Dr. Takeo Kondo presented on "Current Situation and Future Challenge of Japanese Disability Student Services and ICT Utilization;" and our conference host, Dr. Yoko Hirose, presented "The Present Situation and the New Challenge: The Supporting Systems for the Students with Disabilities in the Open University of Japan."
The accessibility of instruction and online learning in particular is of great interest because the Japanese Act on the Elimination of Disability Discrimination, which was enacted in 2013, will be implemented in 2016. This legislation requires that public universities provide reasonable accommodations to students with disabilities. Japan has an opportunity to learn from efforts in the US, UK, and other countries who have been dealing with this issue for many years.
Much of the content of the symposium focused on how online learning can be delivered in such a way that it is accessible to students with disabilities. The Open University of Japan has an extensive distance learning program offered free to the public via television. Individuals who seek credit for participating in the offerings take proctored exams at a network of locations across the country. Open University if now moving toward more Internet-based course offerings. Although communication with our colleagues in Japan required an interpreter, the broad issues our countries are addressing with respect to distance learning are very similar.