Video Captions in Higher Education Instructional Materials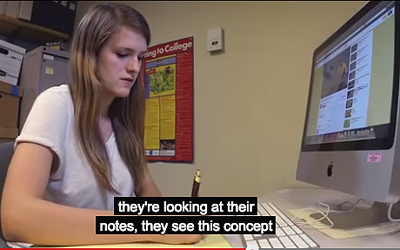 By Doug Hayman, DO-IT Staff
There has been a rapid increase in the use of video in instructional materials used for higher education. Many institutions are using lecture capture software to record not only the instructor's audio/video feeds but also the desktop screencast of PowerPoint slides and other material.
The University of Washington (UW) promotes creating accessible videos with its new resource, a video titled Captions: Improving Access to Postsecondary Education. Students, educators, and technology specialists in this video discuss the importance and benefits of captions for videos used in courses.
The UW began using Panopto lecture capture software in conjunction with the Canvas learning management system in the winter quarter of this year. If these videos don't include captions, students who are deaf or hard of hearing are at a disadvantage. Usually, when a student requests an accommodation for captioning, all of the lecture capture content for that class is sent out to the UW's captioning vendor for prompt turn-around so that all students have access to the captioned videos. Additionally, if the instructor creates his/her own videos with another online service, such as YouTube, then those too are captioned for deaf students, either by the instructor or sent out to an outside caption agency. Making captions a universal necessity for all videos would streamline these processes.
Who else would benefit by the use of captions? Not only do they benefit those with hearing impairments, but many others find them useful as well. English language learners often learn better when they can both see and hear the words—captions can reinforce their learning of both the language and the class material. Captions are also useful for anyone wanting to search through videos for keywords and quickly get to pertinent topics, or for people watching the video in a loud (can't hear the video) or quiet (can't use the audio) environment.
For more information, to watch Captions: Improving Access to Postsecondary Education, and to see more resources for creating accessible videos, visit www.uw.edu/accessibility/videos.