UW-IT Liaisons Meeting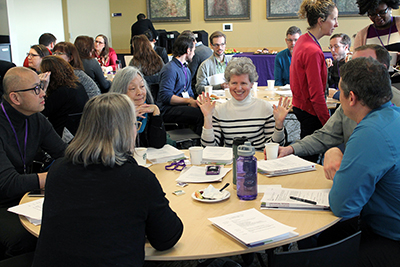 On February 2nd, Accessible Technology Services (ATS) hosted a University of Washington (UW) IT Liaisons meeting, focused on promoting accessibility across campus. The volunteer liaisons are charged with attending three half day meetings per year, communicating in an online community of practice, continually learning more about accessible design of IT, and promoting the accessible design of IT that the UW procures, develops, and uses. This group is key in helping us meet our ethical and legal obligations under federal law to make our services accessible to faculty, students, staff and visitors with disabilities and under the new Washington State Policy #188 on accessibility.
Our first liaisons meeting covered a background on ATS, the legal issues at hand, and UW's policy, guidelines, checklist, and other resources, including the UW's accessibility website. The meeting also hosted a panel of all the ATS support team, who answered questions on their roles and what resources were provided to liaisons and campus departments.
Meeting notes will soon be available online. To see other resources here.