IT Accessibility Specialist Hadi Rangin Wins Outstanding Staff Award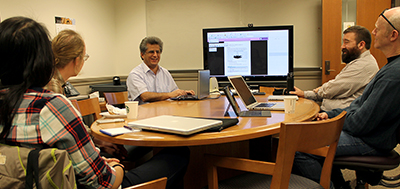 Hadi Rangin, IT Accessibility Specialist within UW-IT, is usually found anywhere from giving individual support on the accessibility of a small department's website to advising the creators of the learning management system used across the entire campus on the necessary requirements to meet ADA standards. Most technologies used on campus have, in some way, been influenced by his work.
His contributions were recognized by the University of Washington (UW) Professional Staff Organization with the Bob Roseth Outstanding Staff Award. This award celebrates the impact a staff member makes on campus and beyond, while going above expectations to achieve results. Hadi definitely embodies this mentality, as he is always pushing to get results, both from those within UW and the vendors he works with on a regular basis.
Here is an excerpt from his nomination letter: "Through his work, Hadi is helping to make the campus a more welcoming and inclusive environment that allows equal access to technology. His efforts allow people with disabilities equal access to technology for their work and studies. He showcases the innovation that people with disabilities can bring to any project."
We celebrated Hadi on April 10th in the UW Club. Congratulations to Hadi for making UW the best it can be!