OnGoing Growth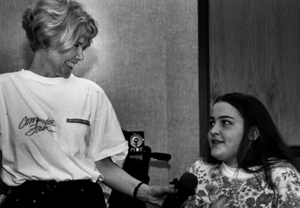 Director Sheryl Burgstahler interviews Phase III Scholar Jenny at a 1995 Computer Fair presentation.
I became a DO-IT Scholar in 1994. I have peripheral neuropathy and use a wheelchair. This year, I started Running Start at Pierce Community College which allows me to earn college credit while attending high school. College life is absolutely outstanding compared to high school life. I was told of a club called OnGoers. It is a club that caters to all different disabilities. I went to a meeting today and found myself more involved in advocating for myself and people with disabilities than I have ever been in my life.
OnGoers is basically a networking thing. We all pool resources, have discussions, and FUN. It's more on my level because more adults are in it instead of kids my age...which...as we all well know...kids my age can well...be intimidating. But adults... Anyways...I told them I was a Phase III Scholar and they were amazed! They've heard all about DO-IT. We meet every other Thursday, and someday plan to introduce Dan and Sheryl, so they can teach about adaptive technology and the transition to college and beyond.